Russian officials on Monday suggested the sailors aboard three Ukrainian navy ships that were seized in the Black Sea on Sunday would be prosecuted.
Interested in
Ukraine?
Add Ukraine as an interest to stay up to date on the latest Ukraine news, video, and analysis from ABC News.
Russian coast-guard ships seized two Ukrainian small gunboats and a tug accompanying them, accusing them of unlawfully entering Russian waters as they sought to cross a disputed strait that separates Crimea from mainland Russia. The Russian ships opened fire on the Ukrainian vessels and Ukraine's navy said six crew members were hurt in the incident.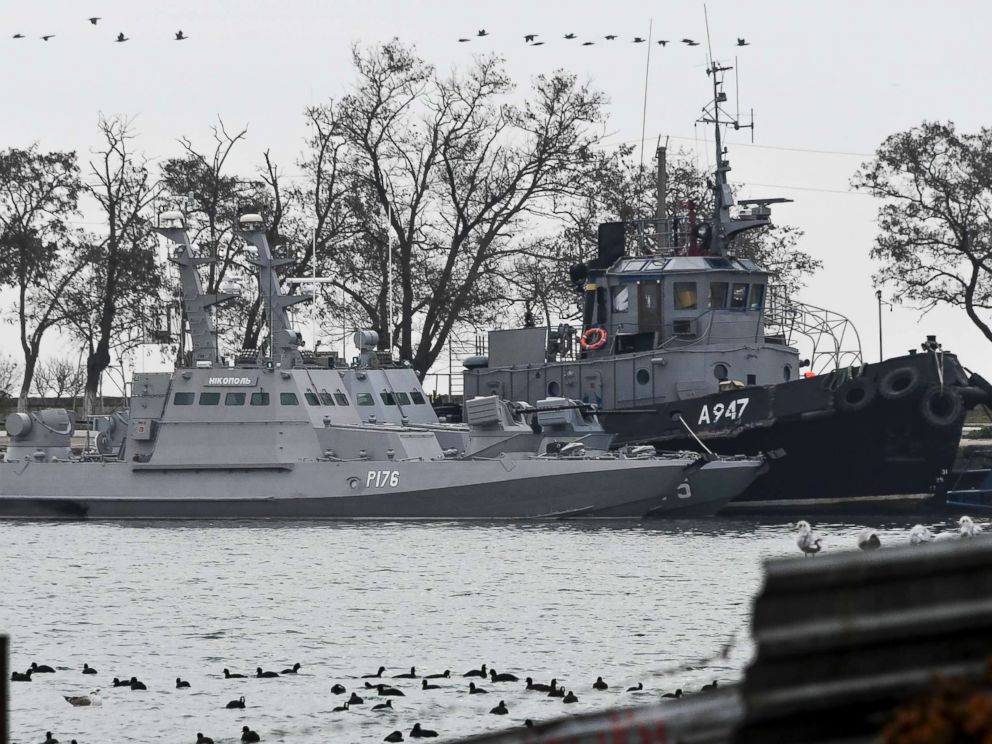 The altercation marked a serious spike in tensions and has sparked fears that it could escalate the four-year conflict between Russia and Ukraine.
On Monday, the United Nations Security Council organized an emergency session following requests from both Russia and Ukraine to meet. At the council, Nikki Haley, U.S. ambassador to the UN, condemned what she said was "another reckless Russian escalation" and accused Moscow of violating international law.
In Ukraine, President Petro Poroshenko has responded to the crisis by asking the country's Parliament to introduce martial law. On Monday, he signed a decree requesting martial law be imposed for 30 days starting Nov. 28, saying it was necessary to prepare the country in case of a Russian attack. But he has insisted that it would not mean an immediate mobilization of Ukraine's armed forces or the start of offensive operations in the country's east against Russian-backed rebels.
"Our intelligence says there is a serious threat of a ground operation against Ukraine," Poroshenko said in a statement published on his office's official website justifying the step.
Poroshenko's effort to get Parliament's approval though appeared to have run into difficulty amid widespread accusations that it is an attempt to postpone the presidential election, which he is currently expected to lose.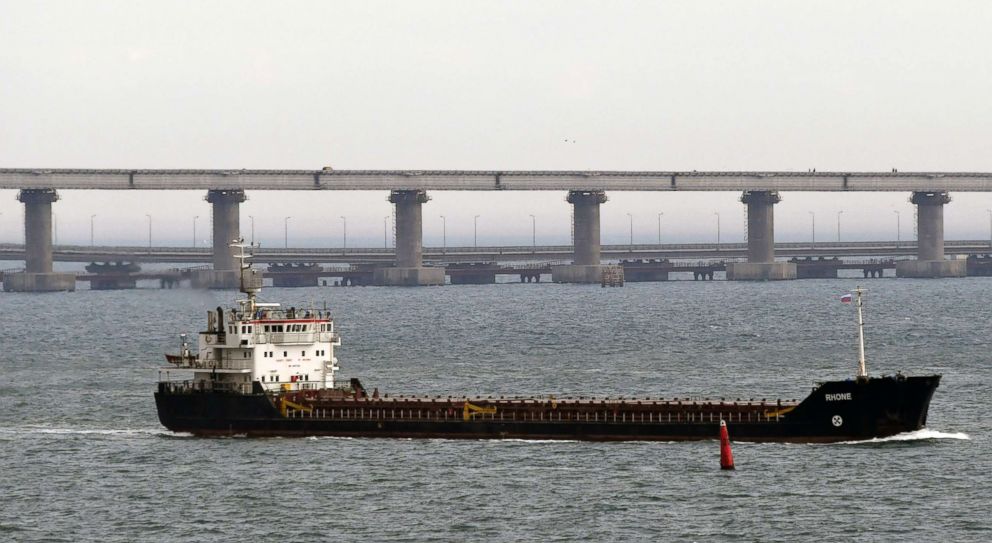 Russia meanwhile has accused Ukraine of inciting the clash. On Monday, the Kremlin's spokesman, Dmitry Peskov, suggested that Russia might prosecute the sailors and referred to the Ukrainian ships' attempt to pass through the strait as an "invasion of Russian waters."
"Border trespassers are prosecuted according to the law, in strict accordance with legislation," Peskov told reporters after he was asked whether Russia viewed the sailors as prisoners of war. Peskov said he was unable to answer that question but suggested it was more likely they would be treated as civilians, noting a criminal case had been opened relating to the incident.
Russia has towed the three ships to a dock in Kerch, a port located on the Crimean side of the straits. It has said three crewmen were hurt, none with life-threatening injuries.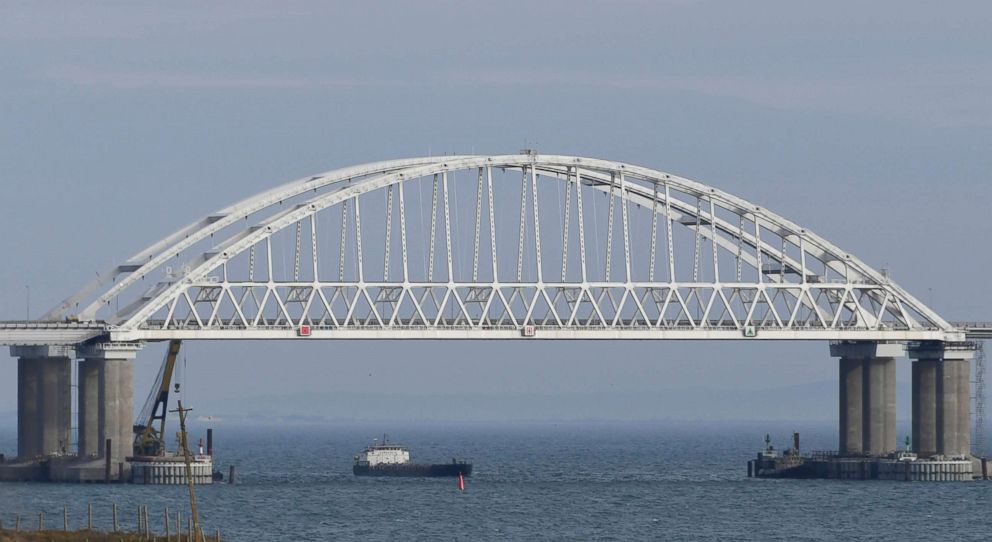 Sunday's incident was a serious escalation of a simmering dispute between Russia and Ukraine over the waters close to Crimea. The two sides have sparred for months over access to the Kerch Strait, the stretch of water between Crimea and mainland Russia that opens into the Sea of Azov. A 2003 treaty designates the strait and the sea as shared waters between Russia and Ukraine. But since Russia annexed Crimea in 2014, it has exerted greater control over it, with Ukraine alleging that it is stopping and searching its ships in what amounts to a partial blockade. The dispute has intensified since Russia opened a large bridge spanning the strait, which Russia has suggested it now has exclusive control over.
Russia alleges the three Ukrainian ships violated Russian waters by trying to pass through the Strait without permission. Ukraine says it is Russia that has broken international law by blocking the Strait and accuses it of a deliberate act of aggression against the Ukrainian ships.
On Sunday, a Russian coast guard ship appeared to have deliberately rammed one of the Ukrainian ships. A video shot aboard the Russian boat and posted by Ukraine's Interior Minister, Arsen Avakov, showed the crew urging on their ship to crash into the Ukrainian.
During the incident, Russia blocked the strait parking a tanker in it and causing a back-up of cargo ships. On Monday, Russian state news agencies reported that the crossing was open again to civilian ships, citing a local state shipping company in Crimea.
The European Union and NATO have issued statements calling on Russia to allow free navigation through the Strait and for both sides to show restraint.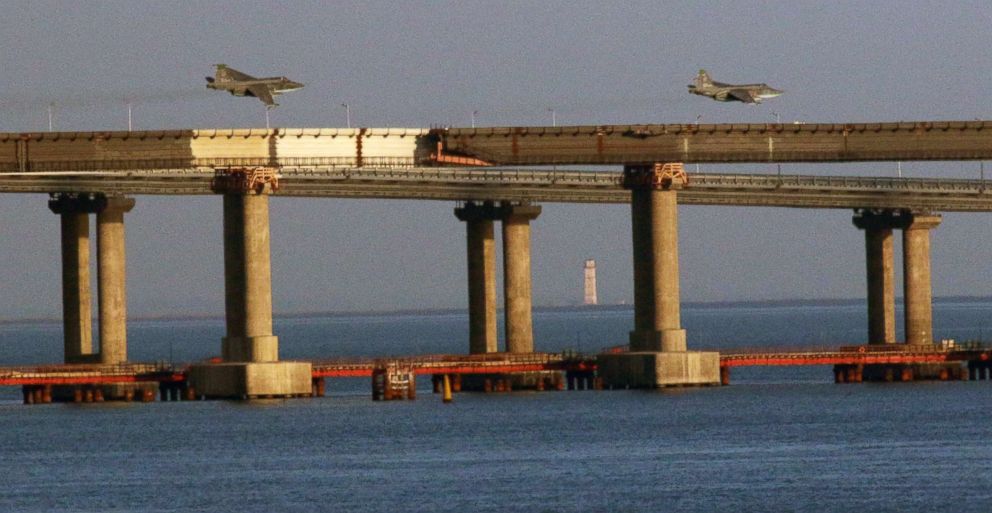 The most powerful impact of the crisis so far though appears to be in Ukraine itself, where Poroshenko's effort to introduce martial law has turned into a major political battle. Poroshenko reduced the proposed period for martial law from 60 to 30 days and in a statement underscored that the measure would not be used to postpone the elections by "not one day." Ahead of Monday's vote, several political factions used a procedure to prevent Poroshenko from addressing Parliament on the issue.
Critics question why martial law should be necessary now, given it was not imposed during earlier, more intense bouts of conflict with Russia. Poroshenko has insisted the threat of a Russian ground attack is credible.
The Kremlin quickly seized on these suggestions. Peskov told reporters that "considering the pre-election situation in Ukraine, this decision certainly smacks of pre-election intrigues."